There are innumerable places in Andaman, which one must discover. If you are travelling to Andaman with your friends and family, you must visit all these places and witness the exotic beauty of Andaman. In Andaman, you will be able to visit Cellular Jail, Anthropological Museum, Samudrika Marine Museum, Rajiv Gandhi Water Sports Complex, Sagarika-Cottage Industries Emporium, North Bay Island, Ross Island, Viper Island, Munda Pahar Beach, Wandoor, Mt. Harriet, Corbyn's Cove, Havelock Island, Neil Island, Baratang Island. With our exotic range of tours, your travel undertakings will now be sorted.
Cellular Jail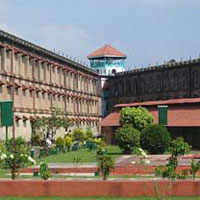 The Cellular Jail in Andaman was established by the British to exile political prisoners. The Cellular Jail is now a major tourist attraction in Andaman. You can visit this historically important place. So, make sure to visit this spot whenever you travel to Andaman. This complex now serves as a national memorial monument.
Anthropological Museum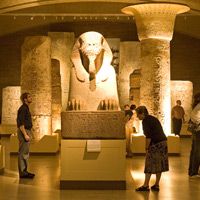 Anthropological Museum is an amazing tourist spot in Port Blair. It offers a profound and informative portrait of island's local tribes. Considered as one of the oldest in the world, the lives of these tribes are neatly documented in this museum. Situated at the Middle Point in Port Blair, this museum is a historical delight. Among major attractions of this museum are Jarawa chest guard, shamanic sculptures etc. It highlights of primordial eras of Jarawas, the Onges, the Sentinelese, the Shompens and the Nicobarese. It is a must-visit destination in Andaman.
Samudrika Marine Museum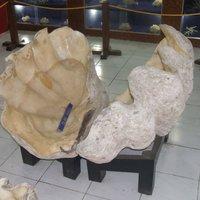 This museum is yet another tourist destination in Andaman. You will enjoy watching the exotic marine ecosystems of Andaman in this museum and experience much delight. Among the innumerable breath-taking destinations in Andaman, this is a major one. Travel with us to enjoy your trip to Andaman to the maximum.
Rajiv Gandhi Water Sports Complex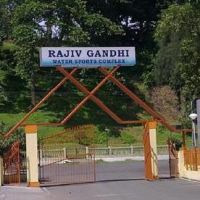 This sports complex is the must-visit place for adventure lovers. If you want to enjoy Scuba-diving, Sea Walking, Glass Bottom Boat and various other sports, then this is the right place for you. For all your sports undertakings, you are sure to have an amazing time here. You will get all the necessary equipment and materials for undertaking such sports. Moreover, there are trainers for every sport, who will guide you throughout your adventure sports and ensure your safety and security.
Sagarika-Cottage Industries Emporium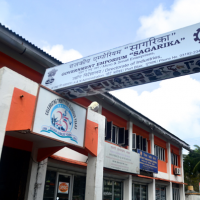 This is the right place for you if you want to buy exotic hand crafted items from the region. From beautiful garments to items made out of shells, this place will give you all the things you want to buy, which are unique to this place. Also, the items are cheaper than many other markets. So, for shopping lovers, this is the best destination for you!
Coral Island / North Bay Island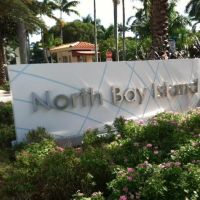 This island is among the most beautiful islands in Andaman. This island is about an hour ferry ride away from Port Blair jetty. You can also travel via speed boat, which takes much lesser time than the ferry. A day's trip is ideal to travel to this island. You are sure to enjoy a wide array of water activities here. Also, Snorkelling is among the most famous sports in this island.
Ross Island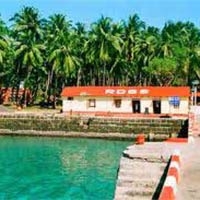 The remnants of the past are visible in the ruins of the church, swimming pool and the chief commissioner's residence with its huge gardens and grand ballrooms. A cemetery and a small museum in the vicinity is managed by the Indian Navy. The museum displays a collection of old records. The island is controlled by the Indian navy and one must sign in on entering.
Viper Island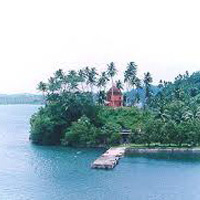 Viper Island is near Port Blair in Andaman. It was the site of the jail where the British imprisoned convicts and political prisoners. The jail was abandoned upon the construction of the Cellular Jail in 1906. The Cellular Jail is an important spot in Andaman but many years before the Cellular Jail was constructed, the jail at Viper Island that was used by the British.
Munda Pahar Beach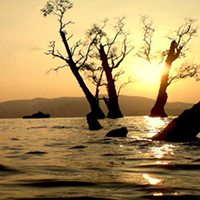 Located at a distance of 25 km away from Port Blair, Munda Pahar beach in Chidiya Tapu displays nature in its best form. Surrounded by Mangrove to the stunning sunsets, it offers you the best relaxing beach experiences.

The beach is also called Sunset Point and here you can witness a spectacular view of the seaside sunset. You can also take part in adventure activities here, mainly by trekking up to the southernmost tip of South Andaman. The 1.5 km trek through a dense forest cover is a worthwhile experience. The view of the horizon is worth watching.
Wandoor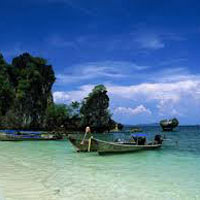 Located at a distance of 25 km east of Port Blair, Wandoor beach is famous tourist destination. The picturesque scenery of the beach gives you immense joy and the perfect atmosphere for recreation.

This place is ideal for swimming and coral sighting. With clean blue water and the dried trees, this beach has well-constructed benches and changing rooms. You can also take a short trek to the natural caves here. Visiting the calm and beautiful scenes of Wandoor beach is a worthy experience.
Mount Harriett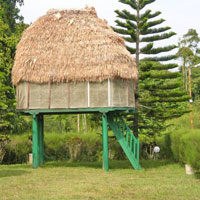 Mount Harriet National Park is situated in a beautiful location in Andaman and Nicobar. The park was established in 1979. Mount Harriet is a part of the park, and it is the third-highest peak in the Andaman and Nicobar archipelago.

This place is shown on the reverse side of Rupee 20 note in India. Named in commemoration of Harriet Tytler, the second wife of Robert Christopher Tytler, a British army officer, an administrator, naturalist and photographer. He was the Superintendent of the Convict Settlement at Port Blair in the Andamans from April 1862 to February 1864. The park's famous species are Andaman wild pigs, saltwater crocodiles, turtles, robber crabs, and beautiful butterflies.
Corbyn's Cove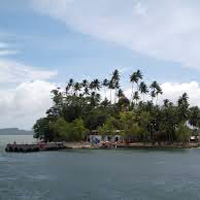 Corbyn's Cove is a lovely destination, where the curve of sand is backed by palms. A ride by the coastal road here is wonderful and you will witness several Japanese WWII bunkers on the way.

Located at a distance of 7km south of town, you can either take an autorikshaw or rent a scooter. You will witness Crocodiles occasionally in the area
Havelock Island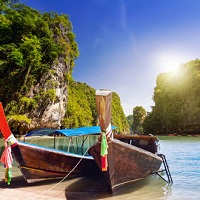 The Havelock island offers a serene atmosphere for tourists. It also facilitates various water activities. If you want to spend some quality time with your friends and
family, then this island is the best spot for you. Your tour to Andaman should definitely include enjoying sports activities in the Havelock Island.
Neil Island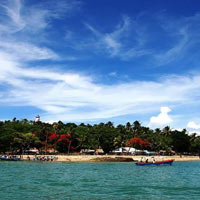 The Neil Island is a tourist destination in Andaman, which is frequented by tourists throughout the year.

To witness nature in its pure form, spend some peaceful time in this island with your near and dear ones. We organize tours for people to enjoy their visit to the Neil Island and various other exotic spots in Andaman.
Baratang Island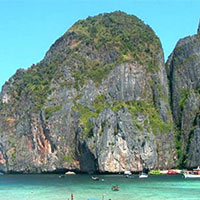 Baratang island is an outstanding destination for tourists and it considered as a gateway to North & Middle Andaman District. This island is not heavily explored and that makes it even more fantastic as a tourist spot. In this exotic island, you can witness Mud Volcano, mangrove and tropical forests, Limestone Caves etc. Beaches like Merk Bay Beach and Lalaji Bay Beach are easily accessible from this island.
Port Blair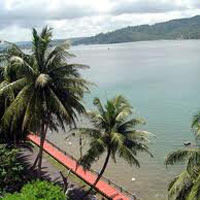 Port Blair is connected to mainland India through flight and ship. Daily flights operate from Chennai, Kolkata & Bhubaneswar to Port Blair's Veer Savarkar Airport. Charter flights operate from Bangalore about once a week during tourist seasons (based on demand). There is also a regular Jetlite flight from New Delhi via Kolkata during tourist seasons. Further, Jet Airways operate to Hyderabad via Chennai.

Shipping services are available from the Indian cities of Chennai, Kolkata or Vishakapatnam to Port Blair. There is a sailing generally twice or thrice a month from Chennai/ Kolkata / Vizag to Port Blair.
Chiriya Tapu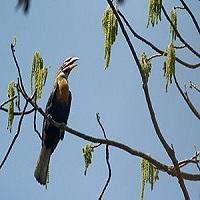 This fishermen's village should be on any excursion itinerary from Port Blair. It is made special by its beaches and mangroves. It is just 30 kms from Port Blair.
Jolly Buoy Island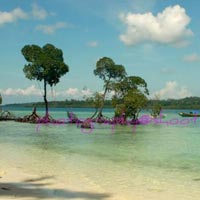 Another important destination to be visited from Port Blair is the Jolly Buoy Island. This island attracts visitors because of its unique Marine National Park. It also has options for snorkeling, sea bathing and basking in the sun.
Andaman Water Sports Complex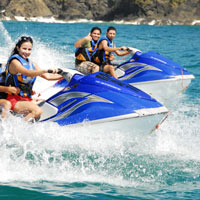 Andaman Water Sports Complex is a renowned sports complex in India and is a unique sports complex offering many adventurous water sports activities. It is located close to the Cellular Jail in the north-west Port Blair.

This sports complex offers all kinds of water sports facilities for comfortable, safe and enjoyable experiences. Sail boats, para sailing, water scooters, rowing boats, kayaks, paddle boats, and water skiing facilities are available in plenty here in this complex. Boating up to Ross Islands from this complex is an exciting experience.